Reaching Far, Caring Close
Cancer care in our region is on the brink of its next evolution.
Carilion has been providing exceptional cancer care for decades. But our cancer center is more than 40 years old. We need more room to provide the latest cancer treatments and technologies and deliver a consistently exceptional care experience. Cancer care is on the precipice of a revolutionary transformation. Personalized medicine through genomics, targeted radiation, new chemotherapeutic agents and new technologies is the future. We believe we can bring tomorrow's cancer care to our region today.
Share our vision by making a commitment to a healthy future.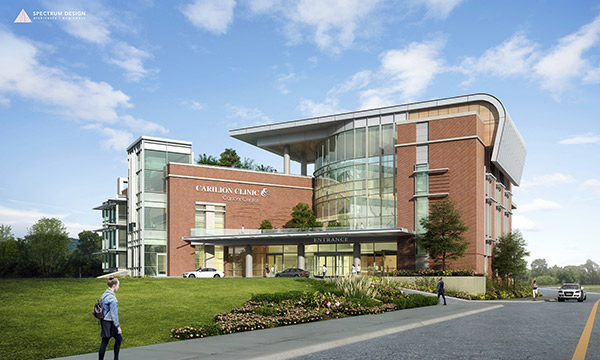 We envision:
A state-of-the-art science building that serves as the centerpiece of cancer care that extends throughout our region, providing world-class personalized care, advanced technology and treatment options, an exceptional caring environment and multidisciplinary teams.
Physicians, clinicians and scientists working side by side using sophisticated clinical trials informed by cutting edge research to offer the best possible outcomes for a wide-range of cancers.
A facility that intersects art and science with soothing colors, comfortable seating, privacy, pleasing views with natural light, gardens, a café and ample parking.
The latest technologies, genetic therapies, infusion therapy and telemedicine in a flexible space to accommodate care for years to come.
Training programs to educate the next generation of oncologists, nurses, pharmacists and therapists.
You can help make our vision a reality.
Realizing our vision depends on philanthropy. Our new cancer center is expected to cost well over $150 million. Private, philanthropic support for this project will accelerate and upgrade what is possible through conventional funding alone.
Your gift in any amount will help ensure the best care is available close to home for every person in our community with cancer. Help us commit to our mission of improving the health of the communities we serve.
"As a former oncology nurse, cancer care has long held a special place in my heart. I'm excited to be taking the next step to enhance care in our region, building upon the dedicated work of those who have come before us."
~ Nancy Howell Agee, President and CEO of Carilion Clinic
Want to know more about giving opportunities? Contact the Foundation at 540-224-4544 or foundation@carilionclinic.org.